Report: Mariota Has "Sponsors" At One Buc
February 27th, 2015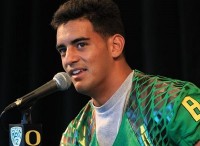 Joe's a big admirer of NFL Network's 1a draft guru Daniel Jeremiah, the former Ravens, Browns and Eagles scout, and an ex-college quarterback.
Jeremiah does loads of homework and has all kinds of sources, from his former scouting colleagues to the access he gets as a league employee.
So Joe really took note when Jeremiah, a huge proponent of Jameis Winston, claimed there are clashing opinions on the great quarterback debate inside the walls of One Buc Palace.
In an NFL.com podcast following the NFL Scouting Combine, Jeremiah discussed how his sources told him there's a vocal Marcus Mariota lobby in the Bucs' draft room.
"In the draft meeting, it's almost like, you've seen the The Hunger Games, right? So you talk about how you need sponsors; Woody Harrelson's character talks about sponsors when you're in the Hunger Games. When you're a player in a draft, you need sponsors in the draft room," Jeremiah explained. "You gotta have somebody that's fighting for you. And I've just been told there's people inside Tampa's draft room, be it coaches, personnel guys, Marcus Mariota has some sponsors in there.

"He has some people that are Team Mariota. Put it that way. So I think there's definitely some Jameis Winston support at the high levels. But I think there's some love there for Marcus Mariota. So I don't think that's as done as everybody thinks it is."
So who are the "sponsors" of Mariota? That speculation is limitless. Heck, Mariota could have more support than Winston.
None of this is surprising. And Joe suspects there won't be total personnel consensus at One Buc Palace when the first-round decision is made.
There doesn't have to be. Joe sure hopes Dirk Koetter has a very loud voice in the process. Jeff Tedford, Joe strongly assumes, wasn't the guy who chose Josh McCown versus drafting a QB last year.