Report: Look Middle Linebacker In Round 2
February 19th, 2015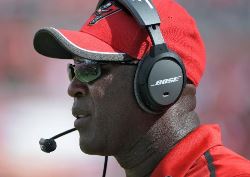 A prominent Tampa Bay Buccaneers media voice, who had breakfast with Lovie Smith yesterday, says he believes the Lovie regime will make its first defensive draft pick on Day 2 of the 2015 NFL Draft.
Longtime Tampa Tribune Bucs beat writer Woody Cummings joined Tom Veit of WHBO-AM 1040 for a chat about all things Bucs yesterday. Speaking from the NFL Scouting Combine in Indianapolis, Cummings shared that he had breakfast with Lovie before the day's festivities.
When asked about where the Bucs' might move in the second round, Cummings offered a firm opinion.
"I don't think an offensive lineman would be that second pick unless they think that there's a guy there that's going to play for them for 10 years, including starting next year at right guard or maybe left tackle. But I'm not sure that left tackle is in this draft. That right guard? Maybe," Cummings said.

"My gut tells me right now, based on what I'm hearing, and what I know about what their plans are for the position, I think they're going to look for a middle linebacker, a starting middle linebacker with their second pick; that's going to be 34th overall. I think they're looking at maybe a kid like [Denzel] Perryman out of Miami. Maybe [Eric] Kendricks out of UCLA … and try and see if they can solve that problem. They like Mason Foster, but they just don't like his speed."
Kendricks, last season's Butkus award winner and the nation's leading solo tackler, is a heck of a prospect with a great pedigree and likely will be a stout pro. But many think he's not a fit at middle linebacker in a 4-3 defense, given his strength and size, 6-0, 230 pounds. But that doesn't mean the Bucs would ignore him.
Regardless, Cummings' take is worth nothing, though Joe would prefer the Bucs go offensive line in Round 2. Joe is more antsy about a young upgrade there. For example, who would you put more faith in next season? Danny Lansanah at middle linebacker, or Evan Dietrich-Smith at center? Joe thinks that's an easy bet.