Report: Bucs Playing With $23 Million+
February 8th, 2015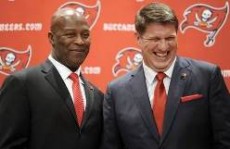 The Bucs have a pile of cash to play with when the free agency dinner bell rings in 30 short days.
And they could almost double it by cutting dead weight, such as Josh McCown's fat, $5 million contract.
It's tough to find reliable sources on NFL salary cap and contract data. Teams and the league don't release details. So there are always varying numbers out there.
Joe typically trusts specific contract info from Mike Florio, of ProFootballTalk.com. Florio is an attorney and is an expert at all the NFL contract nuances. See his recent Michael Johnson time bomb.
Spotrac.com is pretty organized with its salary data, and they claim the Bucs are now playing with $23 million+ for free agency, though in reality the number is less because the Bucs will have to use about 30 percent of that to pay their draft picks. On the flip side, cutting guys like McCown, Dashon Goldson and Michael Johnson would put the Bucs up around the $40 million range.
The Bucs can spend. They'll likely be among upper third of the league in available cash when the dinner bell rings.
Man, the Bucs have holes and could go in several directions.
Joe just hopes whoever picked last year's free agency crop of offensive linemen is locked in a soundproof cage and released in September.