Mike Mayock: Mariota "A Projection"
February 10th, 2015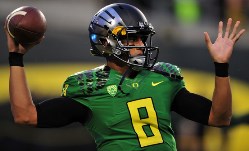 Since the acid reflux-inducing 2014 season ended, Joe has been able to talk to several scouts and a few NFL front office types. Of course, Joe asked the question, in a roundabout way, the only question that matters to Bucs fans.
(No, not Rachel Watson or Tricia Cusmano.)
That would be Jameis Winston or Marcus Mariota? The voices were consistent. The two quarterbacks are opposites. NFL folks love Winston's talent and Mariota's boy scout personality and have red flags about Winston's personality and Mariota's talent.
Since the NFL Scouting Combine is next week (already), Mike Mayock is getting warmed up. The NFL Network analyst Joe believes is the best at scouting college talent recently weighed in on the Winston-Mariota debate. He slapped Mariota with a label dreaded by any football fan. Mayock believes Mariota is a project, types Mike Huguenin of NFL.com.
Mayock said the type of offense Mariota ran at Oregon makes him "a projection" for every team except the Philadelphia Eagles. Mariota was recruited to Oregon by Chip Kelly, who now, of course, is the Eagles' coach.

"From a physical trait perspective, he has everything you want," Mayock said of Mariota. "He's big, he's athletic, he's got great feet and he's got a live arm. So on the surface, the individual components all work. The problem is he's a projection coming to the next level because of the pocket awareness, the progressions and the reads."
The reason why Mayock and other NFL folks aren't believers (yet) in Mariota? Film. They haven't seen Mariota run a pro style-offense. They haven't seen Mariota throws guys open. They haven't seen Mariota thread needles enough, getting passes through tight coverage.
So, given the fact Mariota won't throw at the combine, general managers have to make a leap of faith that Mariota can convert from a spread guy to a pro style NFL offense, if he doesn't throw in private workouts. Doesn't mean Mariota cannot, the evidence just isn't there that he can.
That's a helluva gamble.