Middle Linebacker Crop Is Weak
February 28th, 2015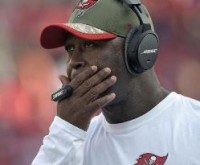 So who's going to play middle linebacker for the Buccaneers?
Likely soon-to-be free agent Mason Foster is not that ideal cover guy Lovie Smith needs.
That was obvious last year. And now word out of Atlanta, via BSPN, is that Foster will be pursued by Dan Quinn, Raheem Morris and the new Falcons regime.
The Cowboys' MLB stud Rolando McClain? He's likely to be a free agent but seems like too much of a freak show.
And then there's the NFL Draft. Would Tampa Bay really draft a middle linebacker candidate atop the second round when they are desperate for young help on the offensive line?
These are big questions.
Former NFL scout and current NFL Network draft guru Daniel Jeremiah has given a thumbs down to this year's linebackers class.
In a post-Combine podcast, Jeremiah talked about how "inside linebacker not a very good position," and he projects none to be first round picks.
Jeremiah is down on Miami middle linebacker Denzel Perryman, who he said looked slow and sluggish through the NFL Scouting Combine field work and checked in under 5 feet 11 inches.
"You better be able to match up against tight ends and backs," Jeremiah said, in a discussion about the role of linebacker evolving in a passing league.
Remember, Lovie Smith is a Combine guy who loves times and workouts. That can't spell good news for Perryman, who is favored by many Bucs fans.
It'll be interesting to see how the Bucs proceed. Danny Lansanah, if he's not in Lovie Smith's doghouse, could be the choice for next season while a later-round rookie comes in to develop. And there's always a chance Foster tests free agency and returns to the Bucs on a one-year deal.