Lovie: Off-Field Actions Haven't Ruled Out Winston
February 18th, 2015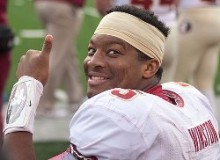 Lovie Smith implied today that his strong belief in the American judicial system is why he and the Bucs are comfortable having Jameis Winston become their quarterback of the future.
Joe's got Lovie's full take, live from the NFL Scouting Combine in Indianapolis.
Of course, Lovie was blasted with Winston questions, including how he feels about Winston's questionable off-field actions.
"What I feel right now, with information we have right now, I understand allegations are against him. I understand that he went through the justice system, the court system, to be exonerated on some allegations against him," Lovie said. "I understand some of the college things that some guys do that you wish you wouldn't later on. And I understand some of the things that he did that are on his record right now.
"We just take all the information we could possibly get at this point. It's early, keep in mind we're just to the combine and we have a lot more research to do and we'll do that. Right now, with the information we have now, we haven't taken him off our list or anything like that.
"I think if a player's been accused of something, and then they've been exonerated of it, you have to go with that. That's what our justice system is all about. So, that's how we'll go forward."
Cue the God Bless America lyrics.
Stick with Joe through the day, and the week, for much more.