Keeping Doug Martin
February 26th, 2015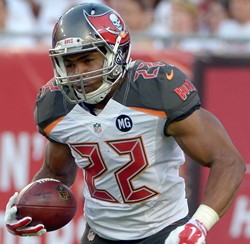 The cutting season has begun. Just yesterday, several name potential free agents were tossed aside by teams whittling payrolls in order to keep star players.
Reggie Bush and A.J. Hawk were given pink slips by the Lions and Packers, respectively.
The Bucs figure to cut some people, too. If you have left tackle Anthony Collins in your cut pool, you are sitting pretty. And it would surprise Joe if Hawk Goldson is back with the Bucs, unless he reworks his contract.
(Joe would be shocked if the Bucs cut or traded Vincent Jackson. Yes, his $9,777,777 salary, per Rotoworld.com, is bloated. But Jackson is still a strong receiver and with Jameis Winston coming in, the rookie quarterback needs solid targets.)
Running back Doug Martin could be cut or traded, but Pat Yasinskas of ESPN.com believes neither would be a smart move.
Because it would be a mistake. I'm not sure Martin ever gets back to being the 1,400-yard runner he was as a rookie in 2012. That sure didn't seem likely last year when Martin gained only 494 yards and averaged 3.7 yards per carry. But some of that had to do with injuries and some of it had to do with poor blocking by the offensive line.

There's no question Sims is a talent. He might be the feature back next season. But the Bucs still need Martin. In the current NFL, you need two quality running backs. Sims isn't the kind of back who can handle 25 carries a game.
Joe thought Martin being too eager to duck his head, not follow blocks (they were there at times) and too quick to hit the ground were signs Martin was finished.
Martin improved later in the season and just after the final game told Joe that he was hurt early in the year. At the time, his pride prevented him from using any excuses for a lack of production.
Running backs take a beating. That's part of why they have such a short shelf life. Joe isn't as sold as Yasinskas on Charles Sims, but the guy was battling an injury and maybe he tried to come back too soon and was pressing.
With Martin, Sims, Bobby Rainey and Mike James, that's a fairly deep stable of running backs. No need to foul that up.