"Just A Matter Of Time"
February 26th, 2015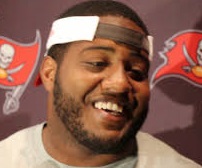 Unlike ghostly Michael Johnson, at least left tackle Anthony Collins played more than six quarters of good football last year.
But Collins is dead Buc walking, says a prominent Tampa Bay beat writer.
Rick Stroud took to the WDAE-AM 620 airwaves this morning and declared Collins' time in Tampa is nearing a conclusion. Stroud said Collins' is still around, in part, for salary cap accounting reasons, and believes it's "just a matter of time" before the Bucs wave goodbye.
Many Bucs fans have seen the comments on Collins from legendary personnel man Gil Brandt, via NFL.com. Brandt believes Collins has value, and has the skillset to transition to guard effectively.
During a face-to-face chat, Joe asked Brandt about this on Super Bowl Media Day in Phoenix. Brandt did budge from his stance on Collins and the guard position, and Brandt also talked about Collins' proven versatility.
Joe can't disagree with Collins' ability, but there's something wrong with the effort and attitude, otherwise the Bucs wouldn't have sat Collins as a healthy scratch during December. Then again, there's always a chance Collins' benching was part of a crafted Chase for Jameis.
Regardless, Joe would bet on Collins getting cut in a matter of days — and the Bucs adding O-line talent in the same time frame.
You can hear all of Stroud's free agency chat via the 620wdae.com audio player below.