Jameis Watch: "Never Seen Him Look A Safety Off"
February 21st, 2015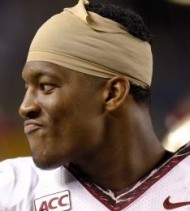 Crab-legs-stealing, BB-gun-shooting, obscenity-hollering, Heisman-Trophy-winning, former national champion Jameis Winston, the pride of Florida State University, continues to look like a much better quarterback prospect than Mike Glennon and Josh McCown.
It's Joe's daily nugget on the Jameis Watch, celebrating the best quarterback ever to wear No. 5 in the state of Florida..
Jameis Winston isn't just all smiles and quick answers and a ray of hope for Bucs fans. He's a football player, a soon-to-be rookie quarterback with flaws, as is Marcus Mariota.
Joe recommends the video below. NBC Sports Network's Brian Westbrook and Jon Ritchie, who together played a combined 16 years in the NFL, break down various aspects of Winston's game.
They're pro Winston, but Ritchie makes the point that he's "never seen him look off a safety." And they illustrate and discuss other aspects of Winston's game pro and con. Westbrook sees a lot of Ben Roethlisberger.
The point here is Winston will be a raw rookie, and more likely his opening campaign will be a mess that steadily improves, rather than the Super Bowl that glory Roethlisberger found.