Jameis Watch: "Clutch"
February 19th, 2015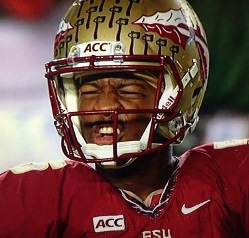 Crab-legs-stealing, BB-gun-shooting, obscenity-hollering, Heisman-Trophy-winning, former national champion Jameis Winston, the pride of Florida State University, continues to look like a much better quarterback prospect than Mike Glennon and Josh McCown.
It's Joe's daily nugget on the Jameis Watch, celebrating the best quarterback to wear No. 5 ever in the state of Florida.
You talk about pressure? Jameis Winston seems to know pressure, and thrives under it. Yeah, he had pressure on the football field. Look at all of those comebacks. Whether it was the 2014 national championship win against Auburn, when Winston was a freshman, or his constant second-half rallies, such as the Notre Dame game, when he was nearly perfect.
It wasn't just the obvious heat Winston faced and overcame, it was layered. At a few points in his playing days, he didn't know if he would play or perhaps be locked in a cage. His life seemed totally out of his control. Yet it seemed when Winston faced the most pressure, from the combined forces inside and outside of football, Winston thrived.
That was not lost on Bucs general manager Jason Licht when he talked about how well Winston handles the heat.
"He played through a lot of adversity," Licht said in his post-press conference press conference yesterday. "Pretty impressive trait. Clutch. He did a lot of good things when he had a lot going on in his life."
That's just one many things that stood out to Joe: how pressure never seemed to bother Winston the least little bit. In fact, one could say he thrived under it.
That's what Joe wants in a quarterback, not some guy who tucks his tail between his legs or melts down at the thought of trying to march a team 80 yards for a game-winning drive.