Jabaal Sheard?
February 5th, 2015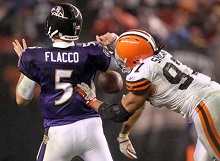 In case you haven't been paying attention, the Bucs need to put a lot more heat on quarterbacks.
The ghost at right defensive end didn't work out too well.
Many expect young Browns DE Jabaal Sheard to hit the open market when the free agency dinner bell rings in 33 short days.
Sheard's an interesting option. A Florida native, he was a 4-3 defense edge rusher in college at Pittsburgh and was a Cleveland second-round pick in 2011. The poor guy already has had three head coaches, including Mike Pettine last year, who ran a hybrid 3-4 defense.
Sheard's career took off out of the gate with 8.5 sacks and 7.0 sacks in his first two campaigns in Dick Jauron's 4-3 defense. But then he tailed off.
He had just two sacks last season but battled a foot injury most of the year. He played in every game and made five starts.
So was Sheard, 25, a victim of system and coaching changes, or is he the real deal?
NFL Network pegs Sheard as one of the top-5 free agent defensive linemen this year. Here's the video cut. They say he's physical, versatile and can play the run and pass rush, but he "won't break the bank."
The Bucs sure could use a guy like Sheard at the right price.