Flexible Lovie
February 14th, 2015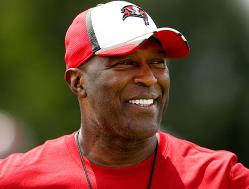 Joe never dreamed Josh McCown would have been cut like he was — when he was. That's not to say he shouldn't have been cut.
When you are the worst starting quarterback in the NFL on the worst team in the NFL, you shouldn't have job security.
As it turned out, he didn't.
One reason Joe didn't see it coming is the rock that is Lovie Smith.
Remember, McCown was chosen by Lovie, and while the Bucs were circling the drain and McCown played more like Bobby Douglass than Bob Griese, Lovie still refused to bench him. Lovie claimed he was playing the players who he thought gave the Bucs the best chance to win.
Then Wednesday afternoon happened. Pat Yasinskas of ESPN.com believes Lovie has become, well, flexible.
So what the heck happened the other day when Smith released quarterback Josh McCown? He was showing flexibility I didn't think he had. It's funny how a 2-14 season can change your thinking.

A year ago, McCown was Smith's hand-picked quarterback. They had been together in Chicago and there was a comfort level that flowed both ways. Mike Glennon, who had started 13 games in 2013, immediately was pushed to the bench to make room for McCown.

In theory, McCown was supposed to be the savvy veteran who rarely made mistakes. In theory, he was supposed to lead a highly efficient offense while the defense and special teams took care of the rest and the Bucs would contend for the playoffs.
As Yasinskas later typed, a 2-14 record can change one's personality profoundly.
Look, if Lovie tried to go with McCown next year, there would have been little chance for the Bucs to finish .500. Hell, the NFC South was historically bad last year and the Bucs never won a division game. There's little chance the Dixie Chicks. the Stinking Panthers and the Saints will be as bad in 2015
By drafting a rookie quarterback, Lovie might buy himself another season. If he went with McCown again this fall, it was possible Lovie was setting himsef up to get run.