Father Lovie?
February 22nd, 2015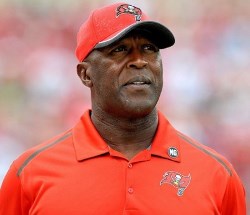 Long-time readers of Joe know how Father Dungy got his moniker; he seemed better suited (and maybe more motivated) to be a priest than an NFL head coach.
Reading the typing of Woody Cummings of The Tampa Tribune, perhaps that moniker could apply Lovie Smith, for it was Smith who said he wouldn't mind being a father figure to Jameis Winston when if the Bucs draft the Florida State quarterback first overall.
Smith believes a head coach, even at the pro level, has to play the role of father figure, too, and he's prepared to do that should the Bucs spend the first pick in the draft on Florida State QB Jameis Winston.

But only to a degree.

"I don't want to be a babysitter," Smith said this week at the scouting combine. "I mean, we'll give direction, but we want to bring in men that are going to make good decisions, and we want to know that if we commit to you, then you have to make a commitment to the team, and that commitment is doing what you're supposed to do, especially at the quarterback position. "But at the same time, there's a reason why we have a player development director. And part of my role is to be in that role a little bit, too. Whether it's as a father figure, a head coach or whatever, I have to set the pace on how you're supposed to act, and I am involved in that. I do give advice, and a lot of times it goes from coach to father figure. But I cherish that role. I really do."
This is good to hear. Joe is not going to pretend he knows Lovie Smith. But the few times Joe interacted privately with Lovie, Joe noticed he is such a nice guy and does seem to have that fatherly way about him at all times.
He also seems to treat his team like they are his adult children, you know, treats them like men?
If Lovie truly is willing to embrace Winston and help him grow as an adult, then the Bucs should already have that draft card filled out for the evening of April 30.