"Devastatingly Poor"
February 6th, 2015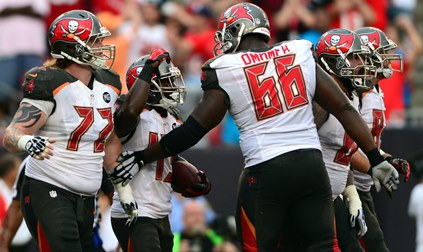 One could point to turnover-prone quarterback Josh McCown as Exhibit-A of the garish swings and misses the Bucs had in player evaluation last offseason. That would be fair, given that Lovie Smith cut the guy in Chicago.
One could suggest the same for ghostly Michael Johnson at defensive end. Joe couldn't argue with that.
However, Evan Silva has other ideas. The NFL analyst for Rotoworld.com believes the screendoor on a submarine that was the Bucs' offensive line was a glaring example of bad player evaluation. In Silva's eyes, that doomed the Bucs and clinched the Chase for Jameis more than anything.
Tampa Bay's 2014 offensive line was devastatingly poor, particularly in pass protection. The Bucs must upgrade on overwhelmed RG Patrick Omameh and may release free-agent flop LT Anthony Collins.
Here is the thing: There is no Orlando Pace of an offensive tackle that is head and shoulders above the rest in this draft class. The Bucs could — and should — be able to get a valuable lineman with their high second round pick.
You cannot get a decent quarterback later in the draft. You can early in the draft. Get Winston, and Joe would be OK if the Bucs drafted nothing but offensive linemen the rest of the draft.