Bucs Signal "Clear" Choice
February 12th, 2015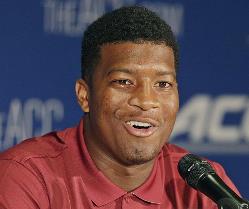 Yes, it is 20 hours after Joe learned of the Bucs cutting ties with turnover-prone quarterback Josh McCown. Joe in some ways still can't believe it.
No, McCown didn't deserve to be on the team. He was horrible, no way to sugarcoat it.
However, given his close ties to Lovie Smith and the way he could help groom a rookie quarterback, Joe was all but certain Lovie would return McCown in 2015.
Steven Ruiz of USA Today believes the move proves Lovie is running out of patience (or, perhaps, feeling heat from Team Glazer?) and wants results now, positive results that is.
Ruiz maintains, Lovie has no use for working with a rookie project quarterback. Therefore, Lovie is set to hand the keys to the Bucs offense to Jameis Winston.
The obvious choices are Oregon's Marcus Mariota and Florida State's Jameis Winston. With Lovie Smith and general manager Jason Licht in year two of the rebuilding process — after a disappointing first season in charge — the Buccaneers brain trust may not have the time to wait on the development of a project.

If that is the case, the Bucs choice should be clear. Winston spent the last two years operating a pro-style offense, making progression-based reads, taking snaps under center and learning how to anticipate windows opening up. New offensive coordinator Dirk Koetter will require whomever the Bucs take to do all of that and more next season.

Mariota was not asked to do any of that at Oregon. The Ducks offense required simple reads based on where the defensive numbers were weakest or the movement of a single defender in pass coverage. That's not to say Mariota isn't capable of adapting to a pro-style system, there's just no evidence proving he can.
As Joe has stated before, this all adds up. This is all a logical conclusion. It seems like a slam dunk and we all know how much Joe wants this to happen.
That is why Joe is tapping the brakes. Lovie is nothing if not unpredictable. That's why Joe is scared. All road signs point to Winston now. The thing is, Lovie reads maps in a different way than most.