Bill Polian Talks To Joe
February 23rd, 2015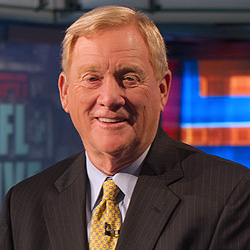 Last week, when Joe was trying to stay warm in frozen Indianapolis, and wasn't killing two days waiting for Jameis Winston to talk, Joe discussed Bucs football with NFL movers and shakers at Lucas Oil Field, site of the NFL Scouting Combine.
In the final hours of the combine (for media types) Joe corralled soon-to-be inducted into the Pro Football Hall of Fame, former NFL general manager Bill Polian. Now a fantastic analyst for SiriusXM NFL Radio and BSPN, Polian talked to Joe about Marcus Mariota becoming an NFL quarterback, Lovie Smith's blueprint and how much the Bucs could improve this fall.
JoeBucsFan: The biggest drawback to Marcus Mariota is that he comes from a college spread offense and he has limited or no experience in a pro-style offense. There have been many examples of spread quarterbacks struggling in the NFL. Vince Young is an example of a guy who was wonderful in a spread option but it never translated consistently to a pro offense. Why is it so hard for spread quarterbacks to convert to NFL offenses?
Bill Polian: Well, first of all, there is a vast different between Vince Young and Marcus Mariota. Second of all, I think that the so-called spread option difficulties are very overrated. Marcus is a special young man. With all of that said, every quarterback struggles coming into the National Football League. Andrew Luck is to have perceived to succeed right away but if you look at the interception statistics, they are comparable to any other rookie quarterback. Russell [Wilson] has not reached his pinnacle yet throwing the ball. He has a great defense and a great running game with him. But he is perceived to have succeeded, and he has, but he is nowhere near where he is going to be throwing the ball. So my point is there is a growth curve, a learning curve, for every rookie quarterback who comes into the NFL. We expect far too much of them. Fans get spoiled because of all the hoopla that surrounds them. It is just a difficult transition. You don't know for four years what they are going to be. So, why would you worry about Marcus Mariota transitioning to the National Football League? He is smart, he is athletic, he has a great arm, he is accurate, he is a leader, he is a charismatic leader as you heard from [Kyle] Long. People knocking him, and his former teammates coming to his defense, tells you a lot about him. So why would you worry about stuff like that? To me it makes no sense at all. The young man in Philadelphia, who comes out of the very same spread situation at the University of Arizona did fine, until he got hurt. Playing in that offense in the National Football League. Is there a learning curve? Sure. There is for every quarterback.
Joe: Does Lovie Smith, who had a 2-14 record last year, have a luxury of a learning curve?
Polian: You have to. You have to. Fans have to understand there is a learning curve. There is a building process. You don't go from 2-14 to 14-2 just overnight. It doesn't happen. We did here [in Indianapolis] only because we had Marshall Faulk. We had Marvin Harrison. We had Tarik Glenn and we had some veterans on defense and we put together a good season. But even at 13-3, we lost our first playoff game — in this building. We weren't prepared – and Peyton wasn't prepared – to take the team to where it ultimately went. For fans – and owners – it is a fact of life. You can't change it.
Joe: Do the Bucs have enough pieces of the puzzle to, maybe, triple their wins and get to six wins?
Polian: What I would say is, two things about the Bucs. No. 1, Lovie has a blueprint. He has to follow that blueprint and the blueprint has proven that he can take a team to the Super Bowl. That is point No. 1. So when fans get frustrated, look to the history. Has it worked before? Yes, it has. So, they should be confident it will work again. Secondly, I know from having picked players for that defense for 10 years, that in many ways, players who have not played in that before, find it counterintuitive. It takes a while to trust the guy next to you, to learn to trust your reads, to learn to trust your techniques in your secondary, to make sure you reroute receivers in the correct way. So, they will be much better on defense – as Dallas was last year, which is the very same defense – they will be much better this coming year, I suspect, because the players will be much more comfortable and know what to expect and what is expected of them. They are used to Lovie in the way he is doing things. So, I would say those two things: One, Lovie's blueprint works and two, they have had their learning curve on their defense and it will get better.