Act Like The Champs
February 20th, 2015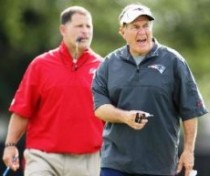 The Super Bowl champion New England Schianos always seem to land a stud offensive lineman late in the first round of the NFL Draft.
Perhaps that's a big reason they always pick late in the first round?
The barbecue master himself, Logan Mankins, was the last pick of the first round in 2005. And he was a stud before the Patriots dumped him on the Bucs.
With the second pick in the second round this year, 34 overall, the Bucs surely will have a shot to trade up a couple of slots to get back into the first round and score a hog.
Joe's friend, draft guru and former scout Daniel Jeremiah, of NFL Network, has the Seahawks and Patriots picking O-linemen with picks 31 and 32, respectively, in his latest mock draft.
PICK NO. 31: La'El Collins, OT, LSU, Seattle is getting ready to pay Russell Wilson a ton of money, and upgrading the offensive line needs to be a priority

PICK NO. 32: Cameron Erving, C, Florida State, Erving had some struggles at tackle, but he excelled once he moved inside to play center. He could play any of the three interior positions for the Patriots.
Collins played left tackle and left guard at LSU, and he measured 6-foot-4 and 305 pounds at the NFL Scouting Combine yesterday. He's known for being nasty and aggressive, but some say his arms are a little short to be an NFL left tackle.
Erving, is a former tackle who thrived as a gargantuan center (6-5, 313 pounds). He put on feats of strength yesterday on the bench press. Joe would be very pleased to have him replace Evan Dietrich-Smith, and what a nice fit that would be with quarterback Jameis Winston.
Trading up back into the first round likely (at most) only costs the Bucs their second-round pick and a fourth-rounder, like the deal the Vikings make last year to move up for Teddy Bridgewater.
The Bucs need a beastly young promising cog on their O-line. Joe won't rest until that happens. And if the Bucs insist on keeping Mankins, in part because he's such a team-first leader of men, then what a waste it would be to not put a rookie alongside him.