"Whether You Intend To Or Not …"
January 30th, 2015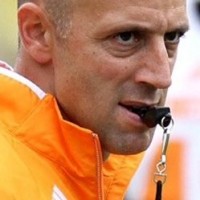 So how will new Tampa Bay quarterbacks coach Mike Bajakian drill and guide the mind and body of Jameis Winston a shiny new Buccaneers rookie quarterback?
Joe's got some insight.
Buccaneers.com, (likely Mighty Joe Kania, the second hardest working man on the Internet) posted a video of Bajakian coaching offense and quarterbacks at his old job, offensive coordinator at the University of Tennessee.
It's some good stuff. You can hear and feel the North Jersey oozing out of Bajakian, who grew up down the road from Greg Schiano's old neighborhood.
If you can't watch the whole video, catch the last 20 seconds or so. Bajakian firmly lectures his quarterbacks on carrying themselves and how they will influence those around them, "whether you intend to or not."
It sure seems like a rookie QB is going to have a firm hand on him.