Tom Coughlin Calls For Raheem
January 8th, 2015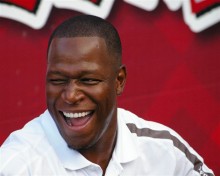 The ol' ball coach, Raheem Morris, got an important phone call from the elder statesman of NFL coaches, two-time Super Bowl winner Tom Coughlin.
Coughlin wants to interview Raheem for the Giants' vacant defensive coordinator position, per BSPN.
Since getting canned in Tampa after the great collapse of 2011, Raheem ran off to the Redskins to coach their defensive backs for the past three seasons. He was well regarded in that role, and it's pretty impressive when a guy like Coughlin comes calling.
Of course, Coughlin is a tough guy, so Joe suspects Raheem will share how became a tough guy, too, after mean kids said his grandma ran like a bulldog, and following daily childhood beatings by his three uncles.
Good luck, Rah!
Joe can only imagine what a media circus Raheem's often wacky news conferences would become in New York, "and things of that nature."