Sparano Play Could Be Imminent
January 14th, 2015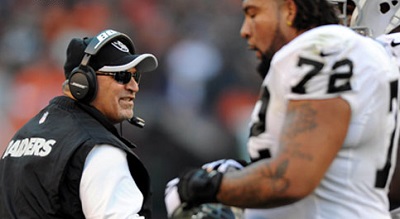 Joe wrote three weeks ago about how Bucs fans should be on "Tony Sparano Watch."
That is taking center stage for Joe today.
The Raiders are set to announce Jack Del Rio as their next head coach, and the Oakland staff still employed appears to be moving on. That includes 2014 interim head coach and offensive line guru Tony Sparano. He's under contract in Oakland, but there's little reason to think he'll stick around.
Even former Bucs offensive coordinator Greg Olson, who had the same position with the Raiders the past two seasons, is even getting a sniff today for the OC gig in Jacksonville, per NFL Network.
It seems Olson is being lauded as a bit of a quarterback whisperer for his work with Drew Brees, Josh Freeman, getting Terrelle Pryor up to speed in a pinch in 2013, and for doing wonders with super 2014 rookie QB Derek Carr. The Jags have Blake Bortles and fired their OC a couple of weeks ago.
Joe's been mingling through East-West Shrine Game action in St. Petersburg this week, in addition to chats with many NFL types following the regular season, and Joe feels very comfortable projecting the Bucs will make a run at Sparano, if he becomes available. Remember, Lovie pursued him once before.
What role Sparano could fill is unclear. But it's hard for Joe to believe the Bucs would evaluate offensive line coach George Warhop and determine he is the best O-line coach available to the team.
Of course, there's no knowing now whether Sparano would consider a Bucs job attractive. It's surely not the most stable NFL environment.