No Nibbles For Frazier
January 3rd, 2015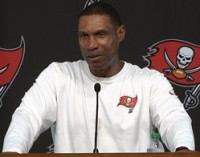 A few weeks ago, Lavonte David revealed that Bucs defensive coordinator Leslie Frazier is "taking control of everything."
Entering the season of coaching changes, the last thing the Bucs needed was another upheaval on the coaching staff.
So Joe was very eager to see if Frazier would get any bites for a head coaching vacancy. In 3 1/4 seasons as the Vikings head man, Frazier was 21-32 with a playoff appearance in 2012. Heck, he even got to the playoffs with a Florida State quarterback.
However, it seems like Frazier hasn't garnered a nibble on the market.
This is good news. As Joe wrote, the Bucs don't need more unexpected change.
Frazier, a former stud NFL cornerback, is an accomplished coordinator and a steadying influence.
Joe still can't figure out why Frazier couldn't put his head together with Lovie Smith and stop Greg Olsen or backup QB Derek Anderson in December, for the second time. But Joe's just going to have to live with that mystery.