Donovan McNabb Says Winston Is No. 1 & Lovie Won't Be Swayed
January 8th, 2015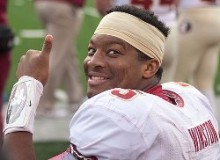 Add Donovan McNabb to the Jameis Winston bandwagon.
The former Eagles star quarterback believes Winston unquestionably will be the best QB available in the 2015 NFL Draft.
For those who have lost track of the former Bucs killer, McNabb is a full time host on NBC Sports Radio. He teams with another former QB, Mark Malone on the Under Center show.
Yesterday, McNabb chimed in on the air and said he believes Winston "is the most pro-ready at this point, when it comes to a pro-style offense."
McNabb named Lovie Smith and said he is confident Lovie will not be swayed by all the negativity surrounding Winston.

"They'll do their due diligence and not focus on what everyone else is saying. They'll get to know the player, know the guy they're going to bring in," McNabb said.
It wouldn't surprise Joe if Lovie and/or Team Glazer is scared off by Winston's off-field baggage. But Joe agrees with McNabb, Joe believes the Bucs only will be influenced by their own research into the Florida State star.