Mark Dominik: Bucs Must Draft A QB
January 15th, 2015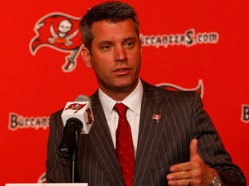 The chorus of people who believe the Bucs have a clear decision with the No. 1 overall pick added another singer last night. And it just so happens to be a man who used to run the football operations of the Bucs.
That man would be former rock star general manager Mark Dominik.
Last night, co-hosting "Late Hits" with Alex Marvez, heard exclusively on SiriusXM NFL Radio, a Bucs fan called in to discuss the draft — after he told Dominik how much he missed him in the front office.
Dominik said in his eyes the choice is clear. The Bucs must select a quarterback.
Caller: Every team in the NFC South has a quarterback but [the Bucs]. Is that all [the Bucs] need to be competitive in the NFC South year in and year out?

Mark Dominik: Absolutely. This one is pretty easy. I don't see any way what people can offer [the Bucs to move up] — some people talked about Chip Kelly wanted to trade up to get Marcus Mariota. Mariota is not coming out of the first or second spot. Both those two teams, Tampa Bay and Tennessee, will be taking a quarterback one and two when it is all said and done. I feel very strongly about that.

Look, they both have to have a quarterback. I know [Zach] Mettenberger showed a little bit of flash last year but you don't want to be picking very high that often in the draft. And the reason why you are picking there is your quarterback didn't play well or you don't have one. That is usually the situation, or in the rare case you are Bill Polian and your quarterback got hurt hurt and you were in the playoffs 11 years in a row, and now you have the first [overall] pick. And suddenly Andrew Luck is there which worked out very good for the Colts and the Colts factory. So that being said, when you are Tampa Bay, it is very hard for me to say they are not [drafting a quarterback] and they aren't going to sit still.

I don't care if you are offered three first round picks. You take a quarterback because it gives you hope and it gives you potential and it gives you a chance to compete in the NFC South and in the NFC, if you get the pick right. Now they have to do their homework. Mariota is right now the safer of the two picks, so to speak. He's very clean in terms of off the field and what he has done: leadership, he has good arm strength. There are some accuracy things you want to continue to watch and grow with him, but all in all, very clean. Now, Winston I think has a ton of talent. And I think — though you have about 3 1/2 months to get ready for the draft, you have 2 1/2 months to sort out Jameis Winston and what he is and where he is growing into as a leader and maturity, because he has a ton of potential talent, too. I think when it is all pulled away and the onions open, you are going to have two very excited teams to take those two quarterbacks. I think you stand pat and you take [a quarterback] because it gives you a chance in both divisions, where you can compete in your division not just one year, but constantly compete.
What more can Joe add?
The only difference in the two, Dominik said of the Bucs and Titans, is that once the Bucs get a quarterback, then they can build their offensive line. The Titans, he said, already have a solid young offensive line.
Bravo, Mark Dominik. Bravo.
If the Bucs do not pull the trigger on a quarterback with the first overall pick, Joe honestly doesn't know how or why fans would ever shell out another nickel to follow this team. The Bucs would have such rank disregard for winning.