Local Eyeballs Were Glued To Rose Bowl
January 6th, 2015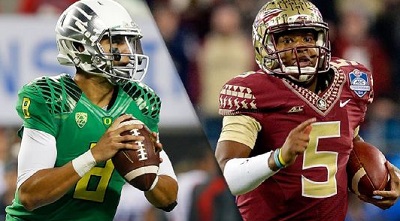 What makes the local TV ratings for the Marcus Mariota vs. Jameis Winston battle stunning is the drop in Florida eyeballs for the other college football playoff game on that same New Year's Day.
BSPN fired off the viewing data yesterday. They shared the top-10 markets by local market ratings, not gross viewers. Birmingham topped the charts for Florida State vs. Oregon, as well as Alabama vs. Ohio State in the Sugar Bowl.
Tampa-St. Pete, which includes the greater Sarasota area, checked in at eighth in the nation.
Rose Bowl Game: Portland was the second highest-rated metered market with a 30.8 rating followed by Columbus (29.8), Dayton (26.7), Knoxville (25.1), Jacksonville (24.0), Greenville (23.9), Tampa-St. Petersburg (23.4), Atlanta (21.3) and Orlando (20.7). Overall, the coverage generated the highest metered market rating for a bowl game on ESPN in three markets and a record for a non-college football national championship telecast in 15 markets.
The Sugar Bowl top-10 did not include one Florida market. Atlanta, Dayton and Knoxville, however, were represented in both top-10 lists.
Perhaps locals here were in distress after Florida State got clobbered. Or maybe they were busy celebrating how Winston looked like a strong franchise-quarterback prospect for their beloved Bucs.