Koetter Came Hester Approved?
January 9th, 2015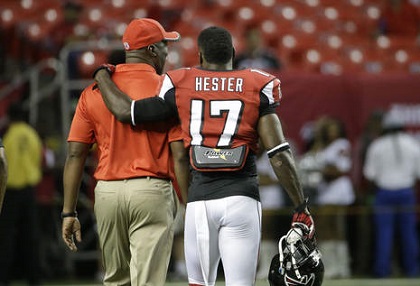 Iconic, electric Falcons return man Devin Hester and Lovie Smith might have the closest relationship around, when it comes to a coach and a former player.
It's still mind-boggling to Joe how Hester landed in Atlanta last season — while the Bucs struggled all year to find a returner and tapped their shaky receiver depth.
But money talked, and the Bucs weren't willing, it seemed, to match Hester's price — $3 million per season. At least that was the vibe Hester sent at his news conference following the Bucs-Falcons game in September. Joe, with his own eyeballs, watched Hester talk about Lovie and how the opportunity to join him in Tampa was in the business cards.
Hester had a strong season in Atlanta. New Bucs offensive coordinator Dirk Koetter even figured out what Lovie's former Chicago offensive coordinators couldn't; Koetter found a true complementary role for Hester as a wide receiver. He finished with 38 catches for 504 yards and two touchdowns as a No. 4 receiver.
Bears fans will tell you Lovie tried to force Hester into a No. 1 and No. 2 receiver role that he wasn't equipped to handle.
The point here is Joe is certain Lovie would reached out to Hester for a reference in the hiring process of Koetter. And it obviously came up roses, with Koetter getting hired yesterday.
Joe wonders whether the Falcons regime will still want Hester, and whether that could lead him back to Lovie.