Jameis Watch: The Godfather's Blessing
January 21st, 2015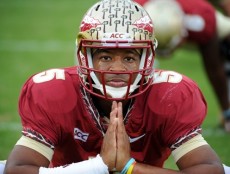 Crab-legs-stealing, BB-gun-shooting, obscenity-hollering, Heisman-Trophy-winning, former national champion Jameis Winston, the pride of Florida State University, continues to look like a much better quarterback prospect than Mike Glennon and Josh McCown.
It's Joe's daily nugget on the Jameis Watch, celebrating the best quarterback to wear No. 5 ever in the state of Florida.
The architect of the Cowboys in the 1960s, 70s and 80s, and "The Godfather" of modern scouting, Gil Brandt is still a busy many working for NFL.com and SiriusXM NFL Radio.
Brandt, of course, has a firm take on the Jameis Winston-Marcus Mariota debate. And he likes Winston, but especially in Tampa.
Bucs should roll the dice on Winston
In my estimation, Winston is the most NFL-ready quarterback in this draft. He has all the measurables and played in a pro-style offense. When Florida State came to Dallas for its opener against Oklahoma State in late August, I had the opportunity to visit with all the FSU coaches, including Jimbo Fisher, who told me Winston was the best quarterback he'd ever had, from a talent standpoint and as a worker. Yes, he played much better in 2013, but I think all the off-field issues he was dealing with affected him on the field this past season. I think he's awfully immature, but that's different than being malicious. By all accounts, he's not. If you can get him into a smaller town, a town like Tampa, he has a chance to become an excellent quarterback in the NFL. If I were the Buccaneers, I'd roll the dice.
Joe has the utmost respect for The Godfather. Joe also agrees that the pressure on Winston would be manageable in Tampa, versus if he walked into the quarterback-starved cauldron that is the Jets or the Eagles.
The Bucs should present a very homey feel for Winston, and Joe can only imagine who much Gerald McCoy would have is back loudly and publicly inside and out of One Buc Palace.