Jameis Watch: Interceptions
January 4th, 2015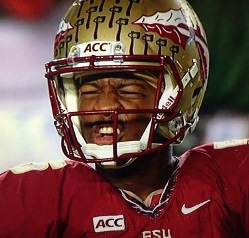 Crab-legs-stealing, BB-gun-shooting, obscenity-hollering, Heisman-Trophy-winning, former national champion James Winston, the pride of Florida State University, continues to look like a much better quarterback prospect than Mike Glennon and Josh McCown.
It's Joe's daily nugget on the Jameis Watch, celebrating the best quarterback to wear No. 5 ever in the state of Florida.
Joe notices the anti-Jameis crowd roars about Winston's bump in interceptions this season. Just some cursory research shows this isn't uncommon for stud college quarterbacks.
Joe looked up Andrew Luck's stats at Stanford (where he played for erstwhile offensive coordinator Greg Roman). Luck, a three-year starter, had his picks double after his sophomore year. And each year Luck played, his interceptions rose.
In fact, Luck threw double-digit picks his senior year, and with fewer attempts than Winston. Hhhmmm?
Funny, Joe looked up Peyton Manning's at Tennessee. From his sophomore year, Manning saw his picks triple and he had double-digit interceptions in both his junior and senior years.
How about Drew Brees at Purdue? In his second year as a starter, his sophomore year, he had 20 interceptions.
Let's check Eli Manning at Ole Miss. His second year as a starter, his junior year, he had 15 picks.
Oh, then there's Tom Brady. He too had double-digit picks each of his last two years at Michigan.
Ben Roethlisberger had double-digit picks in each of his three seasons as a starter at Miami of Ohio — in the MAC!
Tired of interceptions? OK. Guess who once held the record for most consecutive passes attempted without an interception?
That would be one Trent Dilfer.
Maybe folks should't be such slaves to stats. By the standards of the anti-Jameis crowd, every quarterback Joe sited above (sans Dilfer) should have been an outright bum in the NFL, right?
Leave Jameis alone!