Jameis Watch: "Edge: Winston"
January 2nd, 2015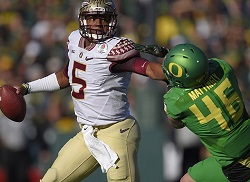 Crab-legs-stealing, BB-gun-shooting, obscenity-hollering, Heisman-Trophy-winning, national champion James Winston, the pride of Florida State University, continues to look like a much better quarterback prospect than Mike Glennon and Josh McCown.
It's Joe's daily nugget on the Jameis Watch, celebrating the best quarterback to wear No. 5 ever in the state of Florida.
Joe can't wait to poll his readers early next week on who they like better for the Buccaneers: Jameis Winston or Marcus Mariota.
Former NFL player and current NFL.com draft guru Bucky Brooks already has weighed in. He served up a detailed grading of the two stud quarterbacks out of last night's Rose Bowl blowout, won by Mariota and the Oregon Ducks.
Brooks says Winston has the NFL edge. Here's one of his category breakdowns:
Pocket presence

Learning how to play amid chaos is the biggest challenge for NFL quarterbacks. The best quarterbacks have the ability to feel the rush, but are disciplined enough to keep their eyes down field on their intended targets. Watching young passers transition from the college game to the pros, I believe it is the one skill that can't be taught at the highest level. Thus, elite quarterback prospects must display the courage and composure to function with rushers in close proximity as a collegian, or it's unlikely they will develop those skills in the NFL despite running through an assortment of simulated drills on a daily basis.

Mariota is an extraordinary playmaker, but he doesn't show exceptional poise or patience within the pocket. He looks uncomfortable working through his reads when his primary receiver is covered, leading him to quickly flee the pocket or move around to create a potential big play in a scramble drill. While he routinely converts these chances into explosive plays — passes of more than 25 yards — Mariota must learn to play within the confines of the pocket when it crumbles. It's the same lesson Robert Griffin III, Colin Kaepernick,Cam Newton and Johnny Manziel are grappling with as pros. Mariota will be challenged to do the same at the next level.

Winston is a superb passer from the pocket. He stands tall at the top of his drop and doesn't flinch when rushers are in close proximity. Most important, Winston consistently works through his first, second and third receiver in the progression before attempting to flee the pocket. Although his run around fumble against Oregon will make every blooper reel following the season, Winston showed tremendous pocket poise for most of the game. Watching him consistently deliver bullets to receivers working between the hashes, I walked away convinced that he could effectively function within an NFL pocket from Day 1.

Edge:Winston
Yes, the debate will rage on for weeks. The Bucs have quite a decision on their hands, one that starts with the hiring of the right offensive coordinator.