Jameis Watch: Booger's Passionate Plea
January 22nd, 2015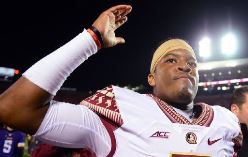 Crab-legs-stealing, BB-gun-shooting, obscenity-hollering, Heisman-Trophy-winning, former national champion Jameis Winston, the pride of Florida State University, continues to look like a much better quarterback prospect than Mike Glennon and Josh McCown.
It's Joe's daily nugget on the Jameis Watch, celebrating the best quarterback to wear No. 5 ever in the state of Florida.
The Bucs have quite a decision to make in 97 days, the opening bell of the 2015 NFL Draft.
It seems everyone has a strong opinion, and former Buccaneers are no exception.
A popular voice on the SEC Network and SiriusXM NFL Radio, former Bucs and Colts defensive tackle Booger McFarland, a two-time Super Bowl winner, waved a giant flag for Jameis Winston yesterday. Booger joined Derrick Brooks and Marcus Mariota supporter Steve Duemig, the dean of Tampa Bay sports radio, on WDAE-AM 620..
"If you just watch the film, Jameis Winston is a better player than Marcus Mariota," Booger said. "Then I said, 'OK, then why wouldn't you take the better player? Well, I'm concerned about his off-the-field issues. Ok.' So then I started thinking back over the years. And I thought about a quarterback out of Pittsburgh who had off-the-field issues. He had character issues.

"They said he smoked marijuana and he didn't get along with anybody. You know who that guy is? The guy's name is Dan Marino. He turned out to be pretty good.

"So my point being is this, Jameis Winston is the best player in college football. Let's not overthink this.

"He's the best player. He's been in the locker room with 18, 19-year-old kids. So he's acted that way. You put him in the locker room, like I did when I got to Tampa. They put be next to Hardy Nickerson. I looked across the room and it was Sapp, Brooks and Lynch. You get in the locker room with grown men, you start to act like a grown man. I think Jameis Winston will be that way.

"So Mr. Duemig, I'm gonna tell you, you can take Mariota; I'll take Jameis Winston, and we'll see who has the best team."
Joe especially liked Booger's line: "Let's not overthink this."
Joe gets the sentiment, but Joe wants Bucs fans to overthink it. Think about the QB-starved Bucs passing on the best and most ready QB in the draft. That would be worse than Josh McCown returning to the field after leading his team to an 0-3 record and national humiliation in Atlanta.