"I'm Going To Travel A Lot"
January 21st, 2015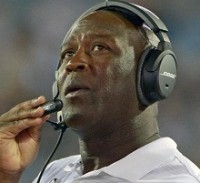 Brand new head coaches often are busy establishing their programs and doing extensive scouting of their new team's existing roster.
They're way to busy to scout college talent. It's a different story for Lovie Smith.
Lovie was at Senior Bowl practices today and chatted with Greg Auman of the Tampa Bay Times. Nothing too exciting from Lovie, but he did confirm that he'll be a man on the move this offseason.
"I'm going to travel a lot," Lovie said.
As Lovie racks up all that mileage by land, air and sea (a cruise to Kalaepohaku, perhaps?), Joe sure hopes Lovie watches film of the Panthers and figures out how to cover Greg Olsen and stop the fourth best quarterback in the NFC South, Derek Anderson.
Joe doesn't know much about the Lovie the scout. He's surely drafted some gems through his career, but he also had a hand in personnel when his Bears gave the Bucs a second-round pick to the Bucs for Gaines Adams. That was one of the most unthinkable deals in recent NFL history. And Lovie's inability to build an offensive line is well documented.
Joe hopes the coach can find the guys that can push the Bucs into relevancy. After all, the 2-14 Bucs are "on the verge."