"I Eat Free"
January 22nd, 2015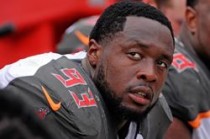 Gerald McCoy headed to the BSPN Radio studios today and joined the famous Mike & Mike show to talk about all kinds of topics and have some fun.
Joe took notes.
Here are the highlights:
First, McCoy shared that he has his own radio show in Tampa, which airs on WDAE-AM 620 during football season. It broadcasts live from an Outback restaurant, and McCoy revealed what he loves about the program. "I eat free," McCoy said, saying he loves having his way with the menu.
However, McCoy talked about his strict dietary regimen on most days. His regular breakfast? Egg whites and a bowl of fruit. His lunch before practice? Fish and veggies.
"When you eat the bad stuff you feel sluggish," McCoy said.
There is some cheating on the diet, McCoy said; he heads to Krispy Kreme every Saturday to buy donuts for the entire Bucs roster.
McCoy doesn't know much about deflated balls, and he said offensive linemen hold on every play and the best O-linemen are simply the guys who hold best — and get away with it.
He revealed that referees rub down players entering the field to determine whether they have unlawful lubricant on their jerseys intended to slime an opponent.
On the personal front, McCoy said his 13-year-old son won't be allowed on Twitter until he's 15 or 16.
Bucs coaches, McCoy said, are always hounding players after games wanting to know if opponents did anything unexpected.
For those wondering, McCoy bowed out of Sunday's Pro Bowl. He was replaced by Sheldon Richardson last week.