Chucky: "A Lot Of Teams In The League Would Trade For Nick Foles"
January 26th, 2015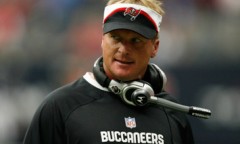 Bucs icon Chucky, the self-proclaimed quarterbacks guru, is all pumped up for his annual made-for-TV quarterbacks camp on BSPN.
Joe can only imagine what the ratings will be in the QB starved neighborhoods of Tampa, St. Pete and Port Richey.
Chucky was interviewed by a Philadelphia TV station recently, and the subject of quarterbacks arose. Philly types are obsessed with the thought of Chip Kelly making a radical trade with the Bucs for the No. 1 overall draft pick, so Oregon star Marcus Mariota can reunite with Kelly.
Chucky made an intriguing comment about the current Eagles QB.
"Look, two years ago, 27 touchdowns, two interceptions. The kid can play," Chucky said of Nick Foles. "He's a young player. A lot of teams in the league would trade for Nick Foles. I think Philadelphia's very fortunate to have a tough guy with massive size."
Joe's not lobbying for the Bucs to trade for Foles. But if Chucky is accurate, then perhaps the Bucs are one of those teams who would love Foles, who turned 26 last week. Heck, Bucs overlord of football operations Lovie Smith fell in love with a 35 year old quarterback that never had as good a season as Foles did in 2013.
You can watch the interview below.