Bizarre Offensive Line Take From Jason Licht
January 13th, 2015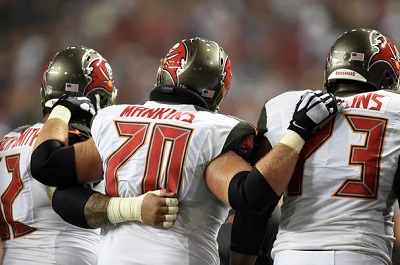 This commentary from Tampa Bay general manager Jason Licht left Joe banging his head against a wall.
Speaking on the Buccaneers Radio Network following the Bucs' awesome loss against the Saints, one that wrapped up the Chase for Jameis, Licht talked about the positive impact of Logan Mankins and the struggles on the offensive line.
Licht said the 2014 O-line was a little clueless when it came to proper preparation, before Mankins arrived at the end of the preseason. Here's the full quote:
"Coming from New England, they have a way that they do things offensively," Licht said. "Offensive line, they're tough. They're mature. They're smart. They work well together in unison. And you know how with the offensive line, if you've got one or two, or even one player out of whack, the whole unit looks bad. And he brought a mentality. And that all comes with preparation. And, quite frankly, I don't know if our players knew exactly how to work the right way. Not that, George Warhop is a tremendous coach. It takes more than just a tremendous coach. The players have to buy in and do it on their own. They have to watch tape on their own. They have to prepare on their own when George isn't there. I don't know if they knew how to do that until Logan came on board. And Logan has been doing it the right way for a long time. So it was very valuable in that regard."
So Licht is saying the O-line didn't have the necessary commitment and knowledge before Mankins got here. Yet the O-line got progressively worse, culminating in Josh McCown enduring epic beatings in the final two home games. Huh?
Joe's having trouble feeling Mankins' positive impact.
Demar Dotson was in his sixth season. Evan Dietrich-Smith was a starter in Green Bay. Oniel Cousins was handpicked by Warhop. Veteran Anthony Collins was mentored by Andrew Whitworth for years and played with other standouts on the Bengals' offensive line. But these guys didn't know "exactly how to work the right way," per Licht.
Joe's not sure what to think, especially when Donald Penn, Jeremy Zuttah and Ted Larsen had good seasons with other teams.