A Long Way From Kalaepohaku
January 5th, 2015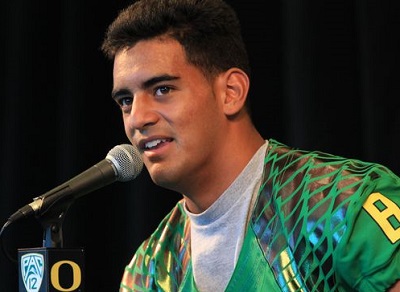 Franchise quarterback prospect Marcus Mariota seems like one heck of a great guy.
He's also a quarterback from a land far, far away from the shores of St. Pete Beach.
That has nothing to do with how well Mariota plays QB for the mighty Oregon Ducks, but NFL general managers do consider how top draft picks might adjust to their new environments. And that's especially true for  quarterbacks drafted to save a franchise.
One of the few knocks on Mariota is that he's considered shy and possibly missing the personality and demeanor successful NFL quarterbacks typically possess. Maybe that's true; maybe it's overblown.
Regardless, the Bucs will consider how Mariota might adjust being so far from his familiar Hawaii and Oregon environments, as well as how long it could take him to feel at home, if at all.
Joe found this recent Hawaii TV feature on Mariota quite interesting and heart-warming.
Enjoy.