Yesterday, Today And Tomorrow
December 29th, 2014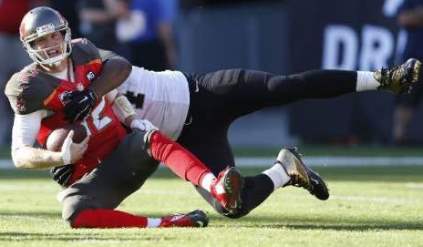 A long look at the Bucs yesterday, today, and what to expect tomorrow and beyond.
And so it is. The Bucs won the Chase for Jameis. It is both depressing and thrilling. Joe has mixed emotions but at the end of the day, someone did the right thing. Joe honestly never imagined living to experience this.
Did Lovie tank the game? It's a bit of a stretch. That may be the most damning comment one could ever lodge at a coach — throwing a game. That is the sports world's version of the Scarlet Letter.
As Lovie suggested in his postgame comments, it came down to a few plays, including one should-have-been catch turned into a New Orleans interception. In that respect, it was no tank job.
And one could argue the fewer Josh McCown pass attempts the better. Case in point, the final drive. Still, how is it that whenever the subject of playing Mike Glennon came up, Lovie bellyached he was putting his best 11 on the field to win. Now all of a sudden he was in eval mode?
It sure smelled like someone picked up the Batphone upstairs and ordered Lovie to bench players. That may be inaccurate but the appearance was impossible to ignore.
Too often, appearance is what gets you in trouble, not necessarily the act. Not attempting a pass in the second half until less than eight minutes remaining in the game sure smelled like something was not on the up and up.
Joe can tell you if such an Al Davis-like order was issued, to bench key players like Lavonte David and Mike Evans, it did not come from Bucs general manager Jason Licht. Joe spoke with him, off the record, briefly after the game, mostly pleasantries, and he was one unhappy camper. He was borderline PO'ed about the loss. Looked like was doing his best to keep his emotions in check.
Licht's body language suggested anything but wanting the Bucs to lose, no matter the prize at the end of the rainbow.
Watching that game, Joe had the same sinking feeling of watching the then-Lovie Smith-led Bears try to battle the Packers in 2010, when the Bucs needed the Bears to win in order to snap a tiebreaker with the Packers and gain a playoff berth. As history notes, the Packers won easily that day and went on to win the Super Bowl.
Lovie's Mentality
The following quote should send a cold shiver up the spine of every Bucs fan and give Team Glazer pause. The words came straight from Lovie's mouth last night after the game.
"We had a lot more success in the first half than I thought we would, especially being able to run the football," Lovie said. "With the lead, if you play pretty good defense you should be able to hold on to that."
No! Never, ever be content with a just a lead. The NFL is not the B1G of the 1970s. The objective is to score, outscore your opponent. You must continue to add points no matter what the opponent did or didn't do in the first half.
Letting teams hang around will get you fired because letting teams hang around opens the door for a loss. What you do is,step on your opponents' throat, kick him in the mouth with your other foot, and if need be knee the guy in the groin.
Joe remembers a story that old man Bobby Bowden told. He used to be of the same mentality. Guess what? While coaching West Virginia, Bowded once played turtle allowing Pitt to rally and beat the Mountaineers. As Bowden later wrote, "Never again," would he allow that to happen. If folks thought he ran up the score, too damn bad.
Bowden won a few games in his time. One would hope Lovie can learn something from that story. If not, egads.
Never let your opponents off the mat willingly. Never!
30-70
Think about that folks. That is your Tampa Bay Buccaneers record for the past 100 games. How miserable is that? Worse than the Cleveland Browns, in fact. Worse than the Jags.
That spans four coaching staffs. As the "Custodian of Canton," eye-RAH! Kaufman of the Tampa Tribune, once said, it's an organizational problem when you lose that much that often, not necessarily a coaching problem.
And folks wonder why the Den of Depression was so empty near the end of yesterday's game, despite beautiful weather. Even the drama of the Chase for Jameis couldn't excite fans. This season was so miserable, so void of drama or intrigue, Bucs fans simply checked out. Joe is convinced many are gone for good.
That could change this spring with the right pick. And that right pick is not a left tackle.
Team Glazer Time To Throw Weight Around
While this may sound seditious, Team Glazer should freeze Lovie out of the draft room come the night of the first pick in April. The evidence is too glaring.
Once the first pick is made, Lovie can do whatever he wishes with the draft. Just not the No. 1 pick.
First is Lovie's history with offenses and, more important, offensive coordinators. Second, as Joe stated yesterday, if one believes Jason Licht thought a never-been like Josh McCown was going to lead the Bucs to the playoffs, well, Joe has beachfront property in Temple Terrace for sale.
Lovie wanted McCown because he trusted him. Simple as that. Problem was, McCown can't be trusted with a football in his hands. This draft pick, with the Bucs desperate for a quarterback, is too important to be left alone with Lovie. For if the pick is any good, the player will last longer than Lovie will.
That is just the way things shake out in the NFL, rarely do coaches last 10 years at one spot, or even seven years. If they do, that often means multiple Super Bowls (Tom Coughlin and Bill Belicheat, for example) or many conference title games (Andy Reid). A guy drafted first overall, if he has a good career, is around for at least a dozen years. This is a pick that can change the fortunes for the Bucs for decades. That's how rare this opportunity is.
It cannot be left to someone who either doesn't care about offense, or has demonstrated an inability to evaluate offense.
Offense is simply not in Lovie's wheelhouse in any way.
This pick must be left to Team Glazer and Licht. If that bothers Lovie, he can remember the Bucs were here before he arrived and will be here after he leaves. Joe doesn't recall Lovie on the sidelines when Chucky hoisted the Vince Lombardi Trophy aloft in victory.
Simple as that.
NFL Thoughts
Crows: Joe Flacco throws for over 300 yards and a pair of touchdowns. Most underrated quarterback in the NFL.
Texans: Bill O'Brien for coach of the year? Dude takes over a garbage team that was right where the Bucs are now. His first overall pick is already a wash and he still guides the team in his first year to a 9-7 record (which Bucs fans would cream their pants over). The way Mike Pettine turned around the Browns, Jim Caldwell the Lions and O'Brien the Texans – all first-year coaches — the excuse that Lovie was in his first year with the Bucs gets lamer by the day.
Chiefs: They punked the Chargers, ending their season led by four sacks from Justin Houston. Wow, did the Chiefs' loss to the Raiders kill their season but it made the Bucs' season.
Jets: Smelled like someone trying to save a coach's job. Geno Smith goes all Andrew Luck on the Dolphins with 358 yards and three touchdowns.
Vikings: Teddy Bridgewater's 44-yard touchdown pass doomed the Bears. Bridgewater completed 17 of 25 passes. Bucs could have had him.
Bills: With nothing to play for, Bill Belicheat loses to Kyle Orton, who completed 16 of 23 passes. Bucs could have had him, too.
Eagles: Mark Sanchez (cleared of sexual assault charges in college just like some guy named "Jameis") threw two touchdown passes despite Eli Manning going Dan Fouts on the Eagles. So Bucs fans, you going to wail and cry about Sanchez's non-felony, like you will about Winston's if the Bucs sign him in the offseason? No? Double-standard? Hhhmmm?
Colts: How rotten are the Titans? Well, how bad is Ken Whisenhunt? Consider, the Titans attempted 31 passes yesterday playing for noted quarterback guru Whisenhunt. They totaled 84 passing yards. You have to try to be that inept. Also, since Kurt Warner retired, Whisenhunt is 20-43, never finishing above .500 and is on an 11-game losing streak. Can you say "Hot Seat?"
Cowboys: The way Dallas is playing, they just may give Seattle a run for its money. Tony Romo racked up 300 yards and a pair of touchdowns.
Stinking Panthers: Cam Newton has been beat to hell this year and Joe's not even talking about him getting in a car wreck. Yet he has played his best football in December, when it counts. Joe's not much of a Newton fan, but damn, have to give him props for sucking it up and producing when his team needed him the most.
Broncos: Peyton Manning … blah… blah… blah…
Packers: Aaron Rodgers comes off the mat and pulls a Willis Reed. After dirty Ndamukong Suh tried to take Rodgers out by stomping on his foot twice, Rodgers came back to lead the Packers to a playoff bye with the win.
Seattle: The Seahawks just slapped around a nasty defense. No one is playing better than Seattle.
49ers: Colin Kaepernick actually had a decent day throwing the ball, completing 15 of 26 for two touchdowns. Jim Harbaugh must be some piece of work if a team, after three straight trips to the NFC Championship game, lets him walk.
Steelers: If Le'Veon Bell is healthy, the Steelers are scary. Defense is stout and they have firepower on offense. Pittsburgh is peaking at the right time.
Spraying the Field
1. Enjoyable Saturday night of college bowls. But Joe was appalled, yet again, with lame tail-between-your-legs football displayed by Boston College. The Eagles had 3rd-and-8 from deep inside their real estate in a one-score game in the fourth quarter. We're not talking about 3rd-and-a-bus-ride. What does Boston College do? Run the ball up the middle against one of the better run defenses in the B1G. Naturally, it failed. You know, that is just gutless football. If you don't trust your quarterback, he shouldn't be on the field. Predictably, Boston College lost in overtime. You know, the objective of football is to outscore your opponent, not keep your opponent in the game giving them a shot of coming from behind, which is exactly what Penn State did.
2. Joe thinks it is wild and absurd how readers still attack him for wanting to draft Johnny Football. Still. The haters think — after, what, six quarters? — Johnny Football is a failure. My God! Not only does Joe wish Johnny Football was drafted by the Bucs, Joe's damned sure the Bucs record would be better than 2-14. Also, Johnny Football is better than Josh McCown right now. It blows Joe away how many want to shovel dirt in Johnny Football's face. By the same standard, Blake Bortles should be run out of the NFL. Damn, people have the patience of houseflies.
3. The Bucs don't need a wide receiver but with Vincent Jackson entering his final year of his contract in 2015, he's not exactly a spring chicken. So it wouldn't shock Joe if the Bucs drafted a wide receiver on Day 2 of the draft. This Breshad Perriman of Central Florida is impressive, but doubt he lasts until the second round as we near 2015. Perhaps an all-purpose guy like Kenny Bell of Nebraska would be a nice second-day pick?
4. Robert Herron was inactive yesterday. Could have fooled Joe. He thought Herron was pretty much inactive all season.
5. Joe's been asked a lot about the re-signing of Louis Murphy. Joe's reaction? Meh. Remember, this is a guy the Bucs cut once. He made a nice play at Pittsburgh to set up an upset win. Other than that, Murphy seems to be Sammie Stroughter, revisited.
6. No one has told Joe this, but be pretty sure good guy and Ric Flair fan Mason Foster has played his final game for Tampa Bay. Joe knows the suits at One Buc Palace are disappointed in Foster's pass coverage skills and he is a free agent. Defensive coordinator Leslie Frazier has already ruled out Foster playing outside linebacker in his defense. Foster struggled to stay healthy in the final half of the season. It all adds up to Foster playing elsewhere. That bums Joe out. Thought Foster had promise. Hell, Joe can't blame Foster for leaving. He's never been on a winning NFL team. Why not play for a team that has aspirations of January football?
7. Joe used to be firmly on the Christian Hackenberg bandwagon but thought James Franklin, not a pro offense kind of guy, ruined Hackenberg. Saturday in the come-from-behind win over Boston College, Hackenberg showed why he was the top quarterback in his recruiting class. Dude has skills but Franklin is costing this guy major cash. Joe can't see Hackenberg being a first-round pick at this stage. Had Bill O'Brien stayed at Penn State, Hackenberg very likely would have been.
8. Joe knows a number of Bucs fans are hoping the Bucs draft Nebraska defensive end Randy Gregory. But his constant injuries scare Joe. Now if he falls to the second round because of that, then Joe would take the gamble.
9. So Da'Quan Bowers claims he has nothing to prove to the Bucs. You may insert your own punch line, but Joe thought it telling two weeks ago when Frazier – once again – referenced Bowers' conditioning. IN WEEK 16!
10. People who say there are too many bowls are a bunch of soccer-loving, NBA-watching, card-carrying commies trying to infiltrate and ruin the very fabric of America. These types should be quarantined and sent to re-education camps. There is no such thing as too much football. Go suck an egg!
11. Joe hopes all readers had a pleasant holiday season and truly hopes everyone has a profitable new year. Thanks, as always for reading Joe, and this weekly in-season column. Joe is often up at 3 a.m. on Monday mornings typing this out, as Sundays/Monday mornings are Joe's busiest days by far during the season. Thanks a lot as this column signs off for an eight-month sabbatical. Should be a fun and exciting offseason. Again.