"Unmitigated Failure"
December 31st, 2014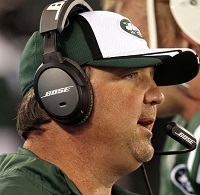 A Jets beat writer says the Bucs are about to entertain an offensive coordinator candidate that's spent the last two years stinking up New Jersey (more than it already stinks.)
Yes, that guy is Marty Mornhinweg, whose resume spans success in San Francisco and Philadelphia, sandwiched around one of the worst head coaching tenures in NFL history (Lions 2001 & 2002).
Mornhinweg moved on from the Eagles to the Jets after the 2012 season. Joe will let Jets beat writer Daryl Slater take it from there.
Mornhinweg's two years with the Jets were an unmitigated failure. Just take a look at the Jets' rankings in key offensive categories:

2013

Yards: 25th
Points: 29th
Red zone: 27th
Third down conversions: 13th
Rushing: 6th
Passing: 31st
First downs gained: 27th
Sack rate: 31st

2014

Yards: 22nd
Points: 28th
Red zone: 32nd
Third down conversions: 20th
Rushing: 3rd
Passing: 32nd
First downs gained: 25th
Sack rate: 25th
You get the idea. The Jets were never really a competent offensive team under Mornhinweg. Funny how that happens without a decent quarterback in town.