The Quarterback Cesspool
December 26th, 2014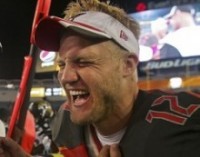 Put your boots on and wade through this mess.
It might get you right on board with Joe's goal for the 2015 NFL Draft.
NFL.com dove into potentially available quarterbacks this offseason. Here's the mess:
Available by trade:
Jay Cutler
Geno Smith
Mike Glennon
E.J. Manuel
Robert Griffin III
Available via free agency:
Mark Sanchez
Brian Hoyer
Ryan Mallett
Jake Locker
Michael Vick
And those listed as "others:"
Matt Moore, Shaun Hill, Colt McCoy, Tarvaris Jackson, Christian Ponder, Jimmy Clausen, Blaine Gabbert.
This kind of garbage is why Joe was repeatedly demanding the Bucs draft Johnny Football or Teddy Bridgewater this past spring — two guys they could have had in addition to Mike Evans.
Regarding NFL.com's names on the 2015 quarterback market, Joe has one question: Where is Josh McCown?