The Hidden Folly Of Turnovers
December 19th, 2014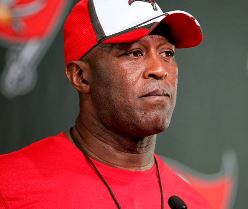 Yes, turnovers can kill a team. They can also help a team, if the team doesn't need help scoring.
The last two Bucs coaches, commander Greg Schiano and current leader Lovie Smith, preached the Gospel of tunnovers. Lovie, in particular, seems obsessed with them.
Turnovers were a topic for Packers coach Mike McCarthy today in his final press conference before the Bucs host the Packers at the Den of Depression on Sunday,, based on the Twitters of the Packers official feed and Wes Hodkiewicz of the Green Bay Press-Gazette.
McCarthy on turnovers: It's always a focus when you play against Lovie's (Smith) teams. They do a good job taking the ball away. #GBvsTB

— Green Bay Packers (@packers) December 19, 2014
MM: I think last week was the last time we lost the turnover battle in a long time — Wes Hodkiewicz (@WesHod) December 19, 2014
Yes, coughing up the football is never a good thing. Just because it is Christmastime doesn't mean a football team could or should play Santa Claus. But putting so, so, so much focus on turnovers, to Joe, is time misspent.
Oh, and when opponents know you are focusing so much on turnovers, they focus just as much on ball security.
Look, turnovers are nice, but they are left to chance. Just because you want to force turnovers doesn't mean it will happen. Why do some coaches put so much emphasis into an element of the game that is left to happenstance?
The Bucs, despite the daily preaching of Lovie, are No. 30 in takeaways. Last year the Bucs were fourth. How did that turn out? Getting takeaways is nice, but if your offense is a step above a toy tractor, it's not going to make much of a difference.
Rather than working hard of making flukes happen, Joe wishes the team would concentrate much more on snap counts, avoiding delay of game whistles, knowing what play to run/audible to start the second half, and making sure offensive assistants can count to 12.
Those things, teams very much can control.