Task Got Tougher: Collins Stays In Tampa
December 6th, 2014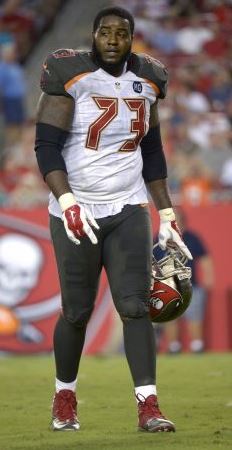 The Bucs have a steep, steep, steep climb in trying to beat Detroit on the road tomorrow. One reason for the tough task is the Bucs offense has been pretty lousy of late, and Detroit's defense is damned good.
In particular, the defensive front of the Lions is very good. And now that job of stopping them got even tougher.
It seems starting left tackle Anthony Collins is out tomorrow, per the fingertips of the "Custodian of Canton," eye-RAH! Kaufman of the Tampa Tribune.
Bucs starting LT Anthony Collins did not accompany the team to Detroit because of an elbow injury

— Ira Kaufman (@IKaufmanTBO) December 6, 2014
Collins' void will be filled by fan favorite Oneil Cousins, most likely. Here is the issue, it often goes in football if a tackle has a rough day, so too does the guard that lines up next to him. It is sort of a snowball effect.
If you are one to attend religious services Sunday morning, it may be wise to keep Bucs quarterback Josh McCown in your thoughts.