Seeking More Than "A Few Bursts"
December 19th, 2014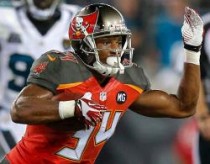 Individually, Buccaneers have loads to play for Sunday — job security, pride and the suffering home fans.
One unit that has plenty of guys still proving themselves and angling for the blessing of the regime is the running backs.
At Carolina on Sunday, Doug Martin had his best game since Sept. 2013. Charles Sims looked his career best, too. Luke Kuechly's ankles are still hurting after Sims broke them with a sweet juke in a hole.
Bobby Rainey, the Bucs' leading rusher, is healthy. And second-year man Mike James is trying to make the most of his rare chances.
Veteran Ch. 10, WTSP-TV sportscaster Dave Wirth is back with his weekly video preview for JoeBucsFan.com readers below:
Wirth is searching for things to watch with interest on Sunday against the Packers, among them are more than "a few bursts" from Martin and Sims. Joe's also very curious to see who, if anyone, emerges out of the backfield.
Enjoy.