Report: McCoy Said, "It Probably Wasn't A Great Idea, Very Smart Of [Me] To Go Back In The Game."
December 8th, 2014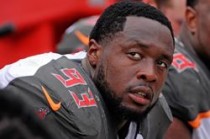 Gerald McCoy went down on the field in the first quarter yesterday with a knee injury.
ProFootballTalk.com claimed it was a dislocated kneecap.
In this WDAE-AM 620 audio below, Bucs beat writer and WDAE host Rick Stroud talked this morning about his postgame conversation with McCoy. He shared that McCoy told him, 'It probably wasn't a great idea, very smart of him to go back in the game."
Joe wrote about the insanity of McCoy returning yesterday — for a 2-10 football team on turf.
You can hear Stroud's full conversation below, via the 620wdae.com audio player.