Pro Bowl: Evans Out? Zuttah In?
December 10th, 2014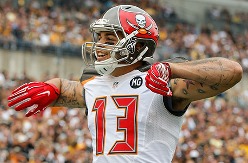 Mike Evans isn't among the NFL's very best wide receivers?
Prior to this past weekend's slate of games, the Around the League folks at NFL.com penned a guide to Pro Bowl voting, specifically for offensive players. Not one Buccaneer even entered the discussion.
Editor Gregg Rosenthal didn't think Evans was worthy of considering for the eight Pro Bowl slots allocated to wide receivers.
This is annually the toughest position to fill out on the Pro Bowl ballot. Injuries make it even trickier this year. My locks at the position include Demaryius Thomas, Antonio Brown, Emmanuel Sanders, Jordy Nelson and Dez Bryant. That leaves three spots for the following strong candidates: Jeremy Maclin, Calvin Johnson, A.J. Green, DeSean Jackson, T.Y. Hilton, Randall Cobb, Julio Jones, DeAndre Hopkins and Alshon Jeffery. That's a loaded list.

Megatron and Green are out because they missed too much time. Maclin is close to a lock for his monster season coming off a torn ACL. My final two spots would go to Jones and Hilton, although it's painful to leave Cobb off the list.
There are still three games to play, and Evans is tied for third in touchdown catches (10) among wide receivers. If he can keep up the end zone magic, that could get him in Pro Bowl with lots of votes from coaches and players.
Of note on the NFL.com guide, former Bucs center/guard Jeremy Zuttah was listed as a prime candidate for one of four Pro Bowl spots for centers. Zuttah is an anchor on the Ravens' offensive line and he's gotten all kinds of kudos in Baltimore. Their offense has been one of the most balanced in football, ranked 10th in total yards and seventh overall in points scored per game (27.4).