Offense? "Blow It Up"
December 15th, 2014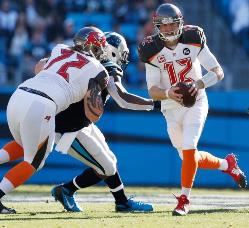 The Bucs' offensive line is, at best, a jumbled mess. Anyone who thinks Josh McCown is anything more than a turnover-prone journeyman has to be watching games well into a bottle — and the running game is a rumor, short of accidents here and there.
This offense is truly a mess. In five of the Bucs last seven losses, the defense has held its opponents to 22 or fewer points. That right there tells you the offense is a hot mess.
There is no way the Bucs can return this same offensive line next year. There is no way the Bucs can bring back McCown and expect to compete for a playoff berth. An attitude has to be fostered to run the ball.
In short, types Pat Yasinskas of ESPN, it's time to pull the trigger on the hand grenade. "Blow it up."
The only good thing you can say about Tampa Bay's offense is that we only have to watch it for two more games. After that, the Bucs need to blow it up and start from scratch next year. The offense just hasn't worked and it's time for an overhaul. New offensive coordinator. New scheme. New quarterback. …

The Bucs ran the ball well in the first half against Carolina; Doug Martin ran for 92 of his 96 yards, including a 63-yarder, before halftime. But they went away from the running game in the second half. The passing game didn't come to the rescue: McCown completed less than 50 percent of his passes, going 13-for-28 for 154 yards with one touchdown, one interception, three sacks and two fumbles lost.

Those aren't the type of numbers you would expect from a guy who was brought in to deliver a savvy, veteran presence. But McCown, 35, hasn't been playing like a savvy veteran. He has been turning the ball over way too much, with 11 interceptions in the nine games in which he has played.
Went away from the running game, eh? Where have we heard that before? Damned near every week since the Cleveland game, right?
Look, it is clear Arroyo, through no fault of his own, is over his head. Lovie should brought in a guy who was versed in the NFL to work on his staff alongside Arroyo. But that is water under the bridge.
As Joe has written, Lovie has 14 days to pounce on the best offensive coordinator he can find; not just some retread slug who will do anything to keep a job in the NFL. The draft position alone should lure the best of the best.
The decision Lovie makes in a few short weeks not only will determine what the Bucs offense will be, but may determine Lovie's job security.
Lovie simply cannot swing and miss on this hire.