New Backs For Bucs?
December 5th, 2014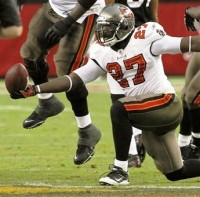 The steady NFL devaluation of running backs hasn't slowed. And the success of undrafted guys NFL fans likely will see in the playoffs this year, from LeGarrette Blount to C.J. Anderson and others, won't change that trend.
The league also is watching a guy like rookie Tre Mason (selected right after Charles Sims) explode for St. Louis.
Joe thought the Bucs were deep at running back this summer, but things don't look so rosy now. Doug Martin hasn't had a good game by NFL-starter standards. Bobby Rainey is buried with Mike James, and Sims isn't scaring anyone.
Shaun King, one of three Tampa Bay quarterbacks to the lead the team to the NFC title game, suggested yesterday on WDAE-AM 620 that the Bucs could make significant changes at running back this offseason.
Barring a dramatic turnaround over the final four games, Joe wouldn't be stunned if Mike Evans is the only returning starter on offense.
USA Today penned a neat piece today looking at the running backs market. Here's a snippet:
The Broncos' resurgent running game is a throwback of sorts to the days when Denver seemed to keep turning late-round picks or undrafted players, from sixth-rounder Terrell Davis to former-Marine Mike Anderson, into stars. Now it's C.J. Anderson, undrafted out of the University of California last year, and undrafted rookie Juwan Thompson from Duke, who are powering Denver's resurgent running game while Montee Ball, a second-round pick, and Ronnie Hillman, a third-rounder, are sidelined with injuries. Both Anderson and Thompson are on minimum salary contracts.

This model is working other places as well — like in Cleveland, where the Browns ditched veteran Ben Tate, their big-name offensive free agent addition last spring, in favor for a pair of rookies – third-rounder Terrance West and undrafted Isaiah Crowell. In Baltimore, the Ravens are riding journeyman Justin Forsett, signed to a one-year deal; and in San Diego, the Chargers kept afloat while starter Ryan Mathews was out thanks to undrafted rookie Branden Oliver.

Among the current rushing leaders, only five of the top 15 rushers – Philadelphia's LeSean McCoy, Seattle's Marshawn Lynch, are also among the highest-paid running backs. League-leader DeMarco Murray of the Cowboys, who has 381 rushing yards more than any other player, ranks 19th in base salary.
Before the Bucs played the Bengals, Joe publicly pined for Mike James to get the rock. That plea still stands.