"My MVP Is Josh McCown"
December 30th, 2014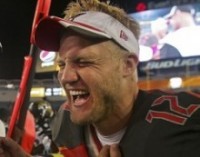 A former Buccaneer has assessed the rotten 2014 season and picked his hero, the supreme leader of the Tampa Bay roster.
"My MVP is Josh McCown for taking a butt whoopin' all year long, all year long, never complained, never missed time [from hits]. To me, that's leadership. Leadership is something," said former Bucs guard Ian Beckles, speaking on WDAE-AM 620 yesterday.
Beckles was appalled by how the Bucs didn't give their best on Sunday against the Saints. He intentionally referred to rookie starting right tackle Kevin Pamphile as "Pap smear," and Patrick Omameh as "edamame" while trashing their performance, and implied that Demar Dotson is a holding call waiting to happen at left tackle.
"They threw the game. Done. Over with. We're not going to argue that," Beckles said.

Beckles spent his entire nine-year career playing for losing teams and said he never experienced a tank job.

"Every last game I played was for nothing," Beckles said of his meaningless season finales. "Every last game I played was exactly like that game [Sunday] Not one time, did they pull out the starters. Not one time. I would like to see how this all came about. How did it come across from the coaches, to front office to the players?"
Joe doubts there will be lasting effects on players who know the team sat down its top players early in the game — a game players were told they should treat like the start of the 2015 season.
Is McCown Joe's MVP of 2014? Absolutely not. And Joe also finds McCown's leadership to be overrated. Where did it lead the Bucs?
You can hear all of Beckles' rant below, via the WDAE-AM 620 audio player.