Mike Glennon's Season Seems Over
December 11th, 2014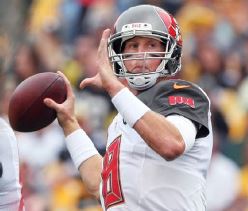 Just a tip to the wise: Joe is going to have a story a bit later with interesting insight into why the Bucs offense is as miserable as it is. You'll want to check back.
Offense was one subject yesterday that was brought up in Lovie Smith's daily presser, and it seems that the Mike Glennon Mob better take a chill pill.
Just judging from Lovie's words, it seems that until or unless Josh McCown gets completely hammered by opposing defenses, Glennon will not take the field for the Bucs in 2014.
In fact, Lovie said the subject of starting Glennon never came up in meetings.
"Not at all. It would be pretty hard to tell the guys we're looking to the 2015 season and we're just going to start doing it that way," Lovie said. "What I've talked to the team about is that you come to work, you try to win every week, so how could you do it any other way besides that? The future is not here right now. This is the 2014 season and we feel like we can get some things accomplished. With the organization we're all on board with what we're going to do on these last games now, whether that means looking at someone, if we look at someone it's because we feel like they give us the best chance to win and we'll see how that goes."
The story Joe referenced above that will be published later may give you an additional peek into the mindset of why Lovie has no plans to start Glennon.
Joe isn't sure what good it does to keep Glennon on the bench. The future is not McCown and every snap Glennon takes, that is not just more experience for him to gain to get a head start on next year, but also gives coaches yet another opportunity to judge if he really is the quarterback of the future.
Unless the Bucs already have decided next season's starting quarterback is not currently on the roster.