McCoy Surprised By Bengals' Approach
December 4th, 2014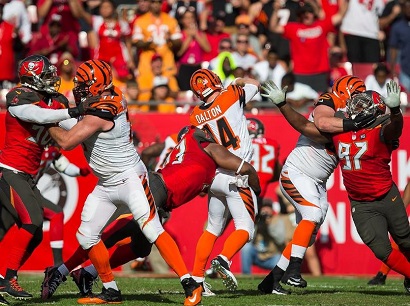 Something was very different for Gerald McCoy against the Bengals on Sunday.
Cincinnati didn't play him like most teams.
No. 93 often has talked about getting double- and triple-teamed every week, but the Bengals did not serve up that level of respect too often.
"Cincinnati did something that a lot of people haven't done this year, and that's give me 1-on-1s, which I was surprised by. It was very surprising," McCoy said last night on the Buccaneers Radio Network on WDAE-AM 620.

"I attacked it like I was going to get a double team, and it ended up being a 1-on-1, and that's why I got so much pressure on Andy Dalton. And we were waiting on them to change it, and they didn't really change it until like late third quarter, fourth quarter. I'm like, 'Really? This is great!' You know, this is what most D-linemen go through."
McCoy went on to say the Bucs' pass rush was a well synchronized group effort, with players "covering each other up," meaning feeling gaps left open by linemates while hunting quarterbacks, and then filling those gaps. That's a darn good sign considering Clinton McDonald was out and Akeem Spence got extended work, and Da'Quan Bowers got his first significant action in a while.
Of course, an angry, bitter Bucs fan might be asking, "Then why didn't McCoy get more than one sack Sunday?"
Joe would tell that guy to lay off McCoy. He got plenty of pressure (see photo above) and is an excellent player on a defense that is surging. Don't expect the guy to be Warren Sapp.