Josh McCown Endorses Marc Trestman
December 29th, 2014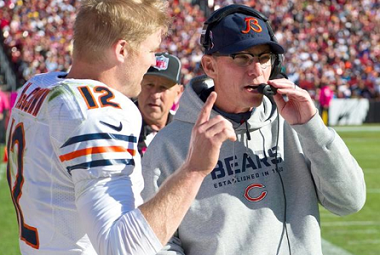 Josh McCown had a farewell chat with media at One Buc Palace this morning — no tears.
Joe asked McCown about the next Bucs offensive coordinator.
Thankfully, McCown didn't dare suggest Marcus Arroyo had a shot.
McCown likely has played for more offensive coordinators than any quarterback in NFL history, and after some pressing, McCown did acknowledge that just fired former Bears head coach Marc Trestman tops the list he's been around.
"I think Marc's an outstanding coach and a great offensive mind," McCown said. "In regards to here? Yeah, I would keep that conversation between Lovie and I, but I just think Marc is an outstanding coach and an outstanding person, and has a great sense of offensive football, especially quarterback play. I just know, for me personally, I played the best football of my career under him.

"Just as I've been around, like you said, a bunch of different [offensive coordinators] in my career, He's probably one of the most detailed, as just with our gameplan and stuff like that, I really felt like was on top of it."
The Bucs could do a lot worse than Trestman, who guided the Bears to the No. 2 offense in the NFL in 2013.
Joe likes Trestman, in part, because he proved he knows how to use big receivers, and Trestman also sought a big tight end, Martellus Bennett, in free agency this past offseason. That's very similar to the Bucs' personnel. Of course, Trestman's background is in QB coaching.
The Bucs could do much worse.