Lovie Smith Gets "Worst" Tag
December 26th, 2014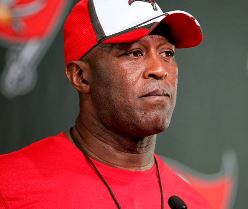 No need to itemize all the nightmares that added up to the Bucs being minutes from the most important loss in franchise history — to secure the top pick in the draft.
When the Bucs hired Lovie Smith 51 weeks ago, fans erupted in glee thinking they got the reincarnation of Father Dungy and happy days were here again.
Instead, that sonic boom you heard was the crash-landing of the second-coming of Leeman Bennett. This team not only got worse, but much worse, despite the upheaval of the roster and tens of millions of Team Glazer cash spent.
How bad? It's hard to fathom, honestly. So bad that veteran sports columnist Gary Shelton, writing on GarySheltonSports.com, tagged Lovie as the "worst" of the first-year NFL coaches.
Granted, not many coaches take over a team where the winning comes easy. There is a reason the last guy was fired. But a first year is about direction and tone, and it's about getting to the mid-levels of the league.

In a dreadful division, with owners who were spending money, that didn't happen. Today, that is the major shortcoming of Lovie's first season. They look as far away from winning as they ever have. They are so many holes in the roster (quarterback, offensive line, defensive end, cornerback, safety, linebacker) that the Bucs may have to turn to free agency again to do it. And who do you trust to spend money there?

Frankly, it doesn't seem like much of an argument that Lovie would be the worst coach of the new guys. But how about overall? Can anyone go lowball with him?
Joe's not so sure the Bucs need a corner (Alterraun Verner is steady and Johnthan Banks may be a budding star), but Joe gets Shelton's drift and pretty much agrees.
Shelton documented all the first-year coaches and most have done a decent if not a good job turning things around, sans Ken Whisenhunt, who is on a 10-game losing streak.
Despite the defense coming around nicely, the massive whiffs in free agency, godawful offense and shameful record add up to Lovie getting a flat out "F" grade from Joe.