Lavonte David's Time Comes December 29
December 13th, 2014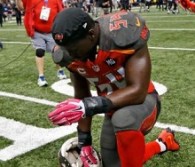 ESPN pumped out key data recently for their Insiders, those who pay their hard-earned cash every month to read allegedly fancier articles.
One nugget clarified a key offseason point for Bucs fans.
Lavonte David is about to enter his fourth season, the final year of his rookie contract. (Where the hell does the time go?) And David should be locked up by the Bucs for years to come. There is no debate.
But NFL rules say you can't write new contracts for drafted players until they've been in the league for three years, unless they've been cut by their drafted team.
ESPN says the path is clear for the Bucs and David in just 16 days.
Extending contracts of third-year players: And two days after that salary cap date, Dec. 29, teams can begin to renegotiate or extend the rookie contract of a drafted player who was selected in any round of the 2012 NFL draft.

Also of note, teams can start rolling over the fifth-year option on first-round picks from the 2012 draft on this date. They have until May 3 to do so.
Joe sure hopes the Bucs get a deal done with David before the free agency dinner bell rings in March.
It might be nice to have David's future cash all ironed out before the Bucs go shopping for used meat. And yes, the Bucs will be shopping early.